Black Kalonji Seeds

Home

Products » Black Kalonji Seeds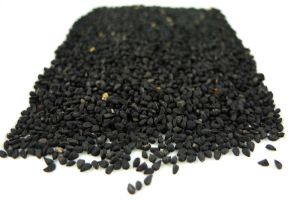 We are recognized as one of a prominent Black Kalonji Seeds Manufacturers, based in India. The Black Kalonji Seeds, available with us, are organically grown through natural manures. Also, they are precisely packed thereby ensuring them to be free from moisture, insects, dust, grimes, and other foreign particles. Where Purity Is The Governing Factor. These seeds are available in different quantity packing to ease the clients.
Classification :
English : Nigella, love-in-a-mist, fennel flower, black cumin, black caraway, black coriander, black seed English, Old (also in King James Version of the Bible) = Fitch
Finnish : Neidonkuka
French : Cheveux de venus, Nigelle or Faux cumin
German : Schwarzhuemmel, later protvurz or brotchrut
Greek, Ancient : Melánthion or meláspermom
Hebrew : Ketzah
Hindi and Urdu : Kalonji
Indian : Nutmeg flower
Italian : Nigela
Persian : Schonaiz
Sri Lankan : Kaladuru
Benefits Of Kalonji :
Kalonji also called as nigella belongs to the Renunculcea family of plants and is abundantly found in countries like Bangladesh, India, Turkey, and some Eastern countries of the world. Kalonji not only adds flavor to the various foods, but is also a herbal remedy for curing many diseases. Kalonji seedsHYPERLINK "http://benefitof.net/benefits-of-chia-seeds/" are extremely healthy for the human body. Some of these benefits include :
Provides nutrients to the body : Kalonji seeds provide many essential nutrients like Monosaccharides and polysaccharide sugars to the body. The polysaccharide component is a good source of dietary fiber, which promotes the movement of bowels. The seeds are also rich in essential fatty acids such as Linoleic acid, which cannot be produced inside the body and need to be obtained from food. Black seed is a source of minerals like calcium, sodium, iron, and potassiumHYPERLINK "http://www.numberof.net/number-of-ions-in-potassium/" and is thus important for the body.
Boosts up the immune system : Research conducted in the field shows that intake of kalonji seeds helps to boost up the immune system and prevents the occurrence of many diseases.
Rich source of essential amino acids : The protein content of black seeds or kalonji contains fifteen amino acids, which include eight essential amino acids. These cannot be produced within the human body and need to be consumed through diet.
Helps in infant growth : Arginine- an amino acid present in kalonji helps in infant growth.
Chemical analysis has further revealed that the black seed contains carotene, which is converted by the liver into vitamin A, the vitamin known for its anti-cancer activity.
Anti-histamine action : The human body tissues release a substance called histamine, which is responsible for causing allergic reactions and conditions like bronchial asthma. Kalonji has anti histamine effects on the body and helps in treating allergies and respiratory problems like asthma.
Anti-tumor properties : Regular use of kalonji helps to prevent the occurrence of deadly diseases like tumor.
Antibacterial in nature : The volatile oil obtained from black seed has antibacterial properties that can be compared to five antibiotics such as tetracycline, ampicillin, gentamicin, cotrimoxazole, and nalidixic acid. Intake of kalonji helps in the prevention of many bacterial diseases.
Anti inflammatory in nature : Kalonji or black seeds are anti inflammatory in nature and help in relieving inflammatory conditions like arthritis and other inflammatory conditions.
Encourage lactation : Kalonji seeds have a combination of hormonal structures and lipid portion, which helps to increase the flow of milk in lactating mothers.
Kalonji can be added to many recipes such as pickles, curries and vegetables. Along with providing a typical flavor, it also makes the cookery healthy and beneficial for the body.
Nutritional value :
Black seed is rich in nutritional values.
Monosaccharides (single molecule sugars) in the form of glucose, rhamnose, xylose, and arabinose are found in the black seed.
The black seed contains a non-starch polysaccharide component which is a useful source of dietary fiber.
It is rich in fatty acids, particularly the unsaturated and essential fatty acids (Linoleic and Linoleic acid). Essential fatty acids cannot be manufactured by the body alone, and therefore we acquire these from food.
Fifteen amino acids make up the protein content of the black seed, including eight of the nine essential amino acids. Essential amino acids cannot be synthesized within our body in sufficient quantities and are thus required from our diet.
Black seed contains Arginine which is essential for infant growth.
Chemical analysis has further revealed that the black seed contains carotene, which is converted by the liver into vitamin A, the vitamin known for its anti-cancer activity.
The black seed is also a source of calcium, iron, sodium, and potassium. Required only in small amounts by the body, these elements' main function is to act as essential cofactors in various enzyme functions.